Community Profile
Spartacus: Blood and Sand Femslash
Slashing the Ladies
This journal contains content only suitable for those over the age of 18.
Free Account
Created on 2011-12-25 13:34:10 (#1264828), last updated 2012-05-09 (280 weeks ago)
192 comments received
65 Journal Entries, 27 Tags, 0 Memories, 2 Icons

About
| | |
| --- | --- |
| Name: | Decadence: Spartacus Femslash |
| | |
| | |
| Membership: | Open |
| Posting Access: | All Members, Moderated |
| | |

Mini Bio
Welcome

Welcome to
sbsfemslash -- the first and only Spartacus: Blood and Sand femslash community. Its mission is to provide a hub for femslash writers and readers to post, read, be inspired, and congregate while creating or appreciating great femslash. Feel free to post after reading the rules below.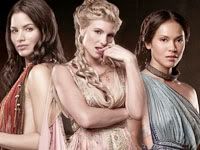 Rules
Fanfiction of all ratings are accepted, but please place warnings on your fic.


Femslash only please.


No character bashing, please.


Fanfiction should be edited and polished by the author before posting. Spell check is your friend.


Lj-cuts are mandatory. Repeat offenders will be banned.


Authors should handle criticism with some grace and readers should be respectful when commenting. Flamewars should be taken elsewhere.


Tag Example:
character: Lucretia, character: Naevia, pairing: Lucretia/Naevia, rating: R, genre: angst


Suggested Header Format
Name:
LJ:
Email:
Pairing/Character:
Rating:
Summary:
Warning:
Notes:
Affiliates
sbs_slash
spartacus2010
bloodandsandfic
Bloodandsandfic @ DW
This is a non-profit fan project and all rights to Spartacus: Blood and Sand belong to the Starz channel and Steven DeKnighT. Profile Layout code credit goes to
estiloamor

Connect
andy whitfield
,
antonio te maioho
,
ashur
,
barca
,
batiatus ludus
,
blood and sand
,
claudius glaber
,
craig parker
,
crixus
,
doctore
,
erin cummings
,
f/f
,
fanfic
,
fanfiction
,
femslash
,
fic
,
gladiators
,
historical
,
ilithyria
,
jai courtney
,
john hannah
,
lentulus batiatus
,
lesley-ann brandt
,
lucy lawless
,
ludus
,
manu bennett
,
mira
,
naevia
,
nick e. tarabay
,
peter mensah
,
pietros
,
robert tapert
,
rome
,
sam raimi
,
spartacus
,
spartacus: blood and sand
,
starz
,
steven s. deknight
,
sura
,
television
,
varro
,
viva bianca
Administrators

Members (3):

Subscribers (3):

Linking
To link to this user, copy this code:
On Dreamwidth:
Elsewhere: